Posted by Shane Pionkowski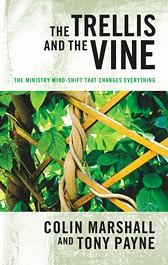 The subtitle of the book is "The Ministry Mind-Shift that Changes Everything".  The mind shift the authors talk about is a shift from having only a select few church members doing the work of ministry such as training others, sharing faith, preaching, etc. to having each church member play a role in the mission of the church.  Colin Marshall and Tony Payne do a great job of tackling both the overall mind set change and then hitting the very practical areas where each Christian can be reaching out to others in the church or others in their area of influence.
This is a book we have elected to use as a training tool for our leaders and up and coming leaders.  When I first read the book, I felt as though it would be a useful tool for years to coming.  No need to re-invent the wheel and have to write a book on ministry when this one hits the goal on so many points.
---