Posted by Scott Schampers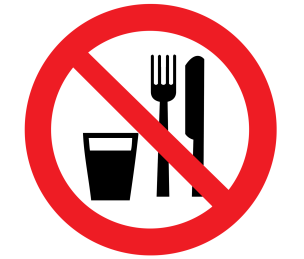 Each February we call the church to pray and fast for God's direction.  We hope that you will consider fasting with us this year on Wednesdays throughout the month of February.  Some people fast the entire day, some only until dinner, and some fast just one meal.  The point isn't the quantity of food that you aren't eating, the point is to seek the Lord.
Last year Shane put together an excellent post about fasting that addresses common questions about fasting.   I am reposting an excerpt from his original post below.
---
Fasting- What is It?
Fasting is the abstaining of some good thing (most often food and/or drink) for a time period in order to devote oneself to God.  Fasting is often combined with times of prayer as a way to devote oneself to God.
Fasting – In the Bible
In the Old Testament, fasting was often done as a group of people realized they needed to seek God's will for their life or the lives of their community.  Since most of the Old Testament centers around the relationship of the nation of Israel and God, many times we see the entire nation seeking God through fasting.  Here is an example:
1 Samuel 7:5-7
5 Then Samuel said, "Gather all Israel at Mizpah, and I will pray to the Lord for you." 6 So they gathered at Mizpah and drew water and poured it out before the Lord and fasted on that day and said there, "We have sinned against the Lord." And Samuel judged the people of Israel at Mizpah.
As we transition to the New Testament, it is helpful to note that fasting is not commanded in the New Testament. There are many direct commands throughout the gospels and letters of the New Testament, but fasting is not one of them. With this said, although it is not commanded, fasting is spoken of often and many times it is assumed that from time to time followers of Christ will fast. At one point, when Jesus is asked why disciples do not fast, he plainly tells them that his disciples will fast when he leaves the earth. Jesus was sure that his disciples would fast.
Matthew 9:14-15
Then the disciples of John came to him, saying, "Why do we and the Pharisees fast, but your disciples do not fast?" And Jesus said to them, "Can the wedding guests mourn as long as the bridegroom is with them? The days will come when the bridegroom is taken away from them, and then they will fast.
Other times fasting is mentioned in the New Testament are Matthew 6:16, Acts 13:2, Acts 14:23, and 1 Corinthians 7:5.
Purpose of Fasting
When Jesus was on the earth, his disciples did not fast. When Jesus returns and we are with him, we will not fast. This gives us insight on the purpose of fasting. Fasting exists because we are not yet with Jesus. Fasting should come from a longing to be closer and have deeper relationship with God while we are not physically with Him. There are very practical ways that fasting creates deeper relationship with God. Once a God-given pleasure such as food is voluntarily removed for a time, it is constant reminder of the giver of all gifts and a reminder of the necessity of the giver. Also, if fasting is combined with seeking God in prayer, the hunger caused by fasting can remind the faster to seek God in prayer. This is obviously not meant to be an exhaustive explanation of fasting, but a general overview.
What Fasting Is Not
There are 3 main pitfalls that I can see regarding fasting that bear mentioning.
1. Fasting is not a means to earn acceptance from God
Luke 18 tells of a Pharisee that was excited because of all that God had allowed him to do and was basing his acceptance from God on his works. One of which was fasting twice a week. Jesus explains in Luke 18:14 that this Pharisee, despite his twice a week fasting, was not justified before God
2. Fasting should not be done to distinguish yourself as a good Christian to others
Matthew 6:16-18
"And when you fast, do not look gloomy like the hypocrites, for they disfigure their faces that their fasting may be seen by others. Truly, I say to you, they have received their reward. But when you fast, anoint your head and wash your face, that your fasting may not be seen by others but by your Father who is in secret. And your Father who sees in secret will reward you.
3. Fasting is not an arm twisting of God for Him to answer your prayer
This is probably the most subtle of issues that can arise. The chain of events can go like this. We have a prayer need. We've decided to not only pray, but to pray and fast to seek God's guidance. When the answer does not come as expected, we feel cheated because we were really devoted to God and he didn't fulfill his end of the bargain.
Fasting must be done in an attitude of humility as we seek guidance and direction from an all-knowing, all-wise God. God, in His wisdom, may choose to withhold what we think we need or answer in an unexpected way.
---