Posted by Scott Schampers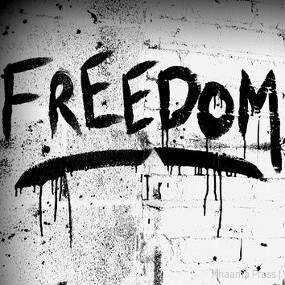 2 Cor 3:17 says, "Now the Lord is the Spirit and where the Spirit of the Lord is, there is freedom."
I can't imagine a context in which freedom is ever a bad thing.  Freedom is great and we all probably want it.  But even though we know that freedom is a good thing, what is it?
The Oxford Dictionary defines freedom as, "the power or right to act, speak, or think as one wants without hindrance or restraint."  This is actually a pretty good start.  This definition is basically saying what we all kind of feel about freedom "that it is doing whatever we want to do".  Of course if you are a believer then you would probably somewhat object to this definition.  After all, the Bible can't be saying that the Spirit came to enable us to do whatever we want – can it???  We still have sinful desires.  Are we free to engage our sinful desires?  The answer is obviously, "no".
But I still think that this is a very good beginning to our definition, it's just incomplete.  What if we added to our definition by saying that "Freedom is doing whatever we want to do, when what we want to do is what we ought to do"?
True freedom happens when our heart desires to do the right thing and we get to do that right thing without any hesitation or restraint.  A husband who loves his wife feels the freedom and joy of coming home to the woman he loves.  He doesn't have to wrestle with his conscience about this because what he wants to do is what he ought to do.  He is truly free.
---