June 10, 2015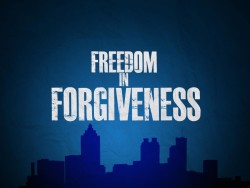 Forgiveness is not only liberating to the debtor but also to the forgiver.
Jacob and Esau were twins at odds with each other.  Esau, who was technically the firstborn, was entitled to a double portion of the inheritance and also (in this case) a special blessing from their father Isaac.  Isaac, near the end his life, called Esau to himself so that he could bless him.  Isaac told Esau to first go hunt, kill, and prepare some wild game and then come back so that Isaac can eat of it and bless him.  Esau's brother Jacob, in a deceitful move while Esau was gone, pretended to be Esau and ended up receiving the blessing that Isaac intended for Esau.
When Esau came back he was furious and pleaded with his father to bless him as well.  Isaac basically told Esau that what is done is done and there was no undoing it.  Esau pleaded with his father for any left over blessing that there might be.  Isaac reluctantly spoke over Esau's life as well, but what Isaac gave to Esau amounted to a complete anti-blessing – yet with one glimmer ... Continue Reading.