October 24, 2012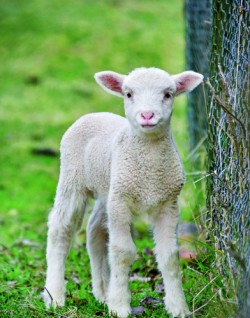 Thinking of myself as a sheep (from the last two Sundays' sermons) is both encouraging and laughably realistic. I am thankful for this not-so-flattering metaphor because it keeps me from taking myself too seriously – a fault that trips me up often. This is not to take our sinful natures lightly – but it takes away the self-condemnation and puts it in the perspective God wants.
Not living in a rural culture, the metaphor takes a while to sink in, but it is still a powerful one. Certainly following the voice of my Shepherd is my goal in life because I know whose side I want to be on and to follow. I know who is for my good. I know who knows better than I.
But I have a found a distinguishing characteristic of this particular sheep (me) – and some of you may relate – that I just don't want to FOLLOW him at times. I really want to show Him I can take care of myself – to "help Him out." He'll like me more that way.
... Continue Reading.
October 18, 2012
Are you crazy?  You be the judge of that.  Well, maybe you shouldn't be the judge of that.  Can a crazy person tell if they're crazy?  I wonder if a crazy person thinks that he is normal but everyone else around him is crazy?  So, maybe you should let Scripture be your judge.
Craziness is a result of not being right in the head.  Right?  We know that craziness can be produced by chemicals, hormones, or accidents.  But I'm not talking about that kind of craziness.  There is another kind of "not being right in the head".  I'm talking about the type of craziness that comes from not being right in our thinking.
Romans 12:3 ESV – "I say to everyone among you not to think of himself more highly than he ought to think, but to think with sober judgment…"
"Sober judgment".  That's an interesting phrase because the Greek that makes it up is found elsewhere in the New Testament translated a little differently.  Let me give you one.  Mark 5:15 ESV – "And they came to Jesus and ... Continue Reading.