February 29, 2012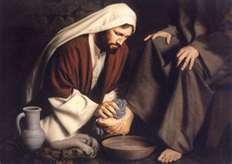 Christian leadership is servant leadership.  If you are a Christian then Christ calls you to serve, and if you are a Christian leader then Christ calls you to lead through serving.  John 13 tells the story of Jesus washing his disciples' feet.  It was Passover time (a high holiday for the Jews), and Jesus and His disciples were gathered to eat the traditional Passover meal.  At one point during the meal Jesus rose from supper; wrapped a towel around his waste; and began to wash His disciples' feet.  Washing feet was the job for a servant.  Dignitaries don't wash peoples' feet, dignitaries have their feet washed by the servants that they hire.  Jesus is the Son of God and beyond any earthly dignitary.  By all means this task was below Jesus, and yet he did it.  And he tells us why he did it.
Jhn 13:12-15 ESV – When he had washed their feet and put on his outer garments and resumed his place, he said to them, "Do you understand what I have done to you? You call me Teacher ... Continue Reading.
February 11, 2012
Isaiah 43:11, "I, I am the Lord, and besides me there is no savior"
Is your heart weighed down?
There is nothing that you can turn to in this world that can truly lift a heavy heart.  Sure, you might find temporary reprieve from your heaviness of heart.  No amount of money, relationships, or power can take a heart and make it truly light because nothing earthly can lift a heart higher than the earth.  In this universe, the greater the mass, the greater the gravity.   In the same way the more we put our hope in earthly things the heavier our hearts become.
What have you been putting your hope in lately to relieve your heavy heart?  The Lord and the Lord alone is the savior.  He can lift your heart above the earth because he holds the earth.
Look to him, turn to him, call upon him, and come to him.  Jesus said,
"Come to me, all you who are weary and burdened, and I will give you rest. Take my yoke upon you and learn from ... Continue Reading.
February 9, 2012
GIRLS-we would love for you to join the women of BCC for two days of fun, hanging out, being encouraged and more. We will be meeting at Camp Silverbrook, which is a local retreat center right here in West Bend, so you can join us for some of it or hopefully all of it. You do not have to spend the night, but it would be great if you can.
The retreat center is beautifully located right on a lake. There will be lots to do!
Below is a rough draft of the schedule.
4:30-5:00 sign in/get settled 5:00-6:00 dinner 6:00-6:30 ice breaker 6:30-7:30 worship/teaching 7:30-8:30 games 8:30-?? free time
8:00-9:00 breakfast 9:00-9:30 worship/teaching 9:30-10:30 art project 10:30-11:30 free time 11:30-12:30 lunch 12:30-1:30 testimony/prayer groups 1:30-2:30 free time/clean up
We believe this will be a great chance to get to know one another even better and very valuable. Please come for as much as you are able! Last year there were lots of laughs and many women who commented they were hesitant to come, but so thankful they did.
Cost: ... Continue Reading.