December 28, 2011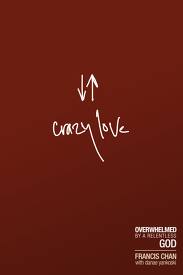 We highly recommend Crazy Love by Francis Chan.
Check out the Crazy Love Book website.  Here is an excerpt:

Does something deep inside your heart long to break free from the status quo? Are you hungry for an authentic faith that addresses the problems of our world with tangible, even radical, solutions? God is calling you to a passionate love relationship with Himself. Because the answer to religious complacency isn't working harder at a list of do's and don'ts — it's falling in love with God. And once you encounter His love, as Francis describes it, you will never be the same.
Because when you're wildly in love with someone, it changes everything.
December 2, 2011

Daniel, Shadrach, Meshach, and Abednego were among the many young men taken from their homes in Israel and brought as captives into Babylon.  You may remember some stories about them.  Maybe the story of Daniel and the lion's den comes to mind or the story about the burning furnace that didn't consume Shadrach, Meshach, and Abednego.  These men will forever be known for making big decisions to honor the Lord even when their lives were on the line. But long before these men had to make the big decisions of life and death they… "resolved".
Daniel 1:8 But Daniel resolved not to defile himself with the royal food and wine, and he asked the chief official for permission not to defile himself this way.
Daniel resolved not to defile himself and evidently so did the other three (Daniel 1:11-12).  Don't overlook this event in the lives of these four men.  Although they may have been living in a new country they resolved to be set apart – to be different from the place in which they lived.  Ultimately, their resolution ... Continue Reading.